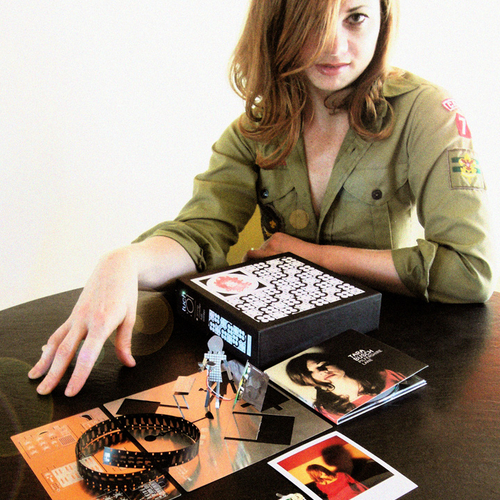 TUCH01 "Spring" - Tara Busch
| Format | Price | Buy |
| --- | --- | --- |
| TUCH01 "Spring" - Tara Busch | £29.99 | |
Sorry, TUCH01 "Spring" - Tara Busch is out of stock.
Description
Tara Busch - TUCH01 "Spring" - Tara Busch
*FREE SHIPPING TO ANYWHERE IN THE WORLD*
This sophomore edition has been curated and designed by Tara Busch and Maf Lewis and contains the following strictly limited edition items:
** CD Copy of Tara Busch's debut solo album, Pilfershire Lane, with deluxe digipack cover.
** A 7" x 7" stainless steel mini popup stage set. This includes working microphone, speaker and circuit with record and play feature. The set comes with popup Korg MS-20 and Minimoog, but also included are interchangeable stainless steel face plates for the Buchla 200e, MacBeth M5, Analogue Solutions Vostok, ARP Odyssey, Micromoog and Moog Etherwave Theremin.
** A 100th cut strip of a 16MM B&W film created specifically for the box set. This 16mm movie is the only copy that will ever exist and is cut equally between the 100 boxes.
** An original one-off Polaroid 600 picture of Tara taken at her studio in Los Angeles.
** Certificate Of Authenticity signed and numbered by the artist
** All in a beautifully made 7" × 7" x 2" rigid cardboard box.
£29.99 GBP is currently worth around $50 USD and 35 Euros. You can pay with credit card or Paypal and we will ship worldwide.


*FREE SHIPPING TO ANYWHERE IN THE WORLD*

*NUMBERS ARE STRICTLY LIMITED TO 100 AND GOING FAST*