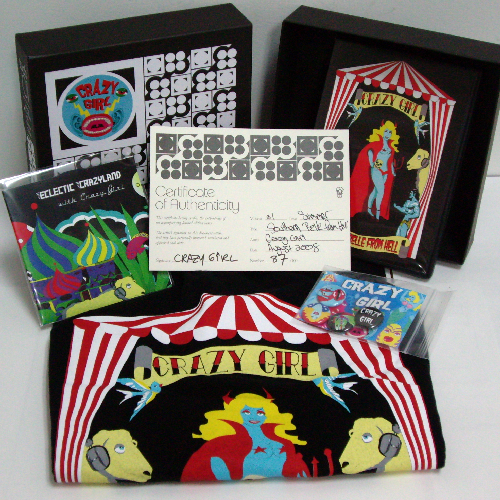 TUCH01 "Summer" - Crazy Girl
Description
Crazy Girl - TUCH01 "Summer" - Crazy Girl
Tummy Touch is proud to present the first issue of it's new multimedia quarterly, TUCH01.
This inaugural XXX rated edition has been entirely created by the one woman creative powerhouse that is Crazy Girl and contains the following strictly limited edition goodies:

** CD Copy of Crazy Girl's debut album, Southern Belle From Hell.

** DVD with over 20 animations and videos. These uncensored art pieces will never be available in the shops! It's rude, people, REALLY RUDE !!

** CD with an EXCLUSIVE episode of the Eclectic Crazyland radio show.

** T Shirt. 9 colour, American Apparel, 100% cotton T Shirt with custom made labels.

** Four full colour badges.

** Certificate Of Authenticity signed and numbered by the artist

** All in a beautifully made 7" x 7" x 2" rigid cardboard box.

PLEASE NOTE - THE CONTENTS OF THE DVD ARE XXX RATED AND NOT TO BE SHOWN TO MINORS. WE MEAN IT !!

FREE SHIPPING ANYWHERE IN THE WORLD !!!

NUMBERS ARE STRICTLY LIMITED TO 100 AND GOING FAST !!!