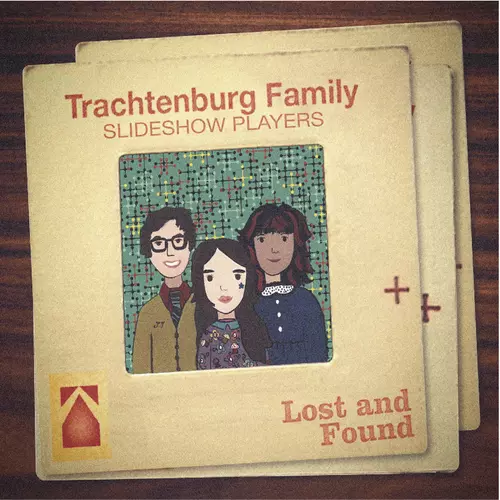 Lost And Found
Available Formats
Tracks
Price
Buy
CD Album
16 tracks

£

6.99

Download Album ()
16 tracks

£

4.99

Download Album (

MP3

)
16 tracks

£

4.99

Download individual tracks
From £0.49
Description
The Trachtenburg Family Slideshow Players - Lost And Found
The Trachtenburg Family Slideshow Players exist as an anomaly of whacked-out individualism in a vacuum of otherwise pre-packaged, homogenized, corporate schlock. Seriously. How many indie-vaudeville-conceptual-art-rock-slideshow bands/families do you know of? And this is, in part, why TTFSP are loved by so many. Because at the end of the day, no matter how conditioned we are to crave garbage, there exists in us all the desire for originality. Something TTFSP deliver in spades, both live and with their newest album Lost and Found (released 7/12 on Tummy Touch Records). Check out the full-album listening party on Spinner:

In addition to garnering heaps of underground admiration, this lof-fi DIY family that lets the lines between performance and reality bleed into one another has earned praise from The New Yorker, Spin, Village Voice, NPR, and Entertainment weekly to name a few. They've played Bonnaroo, the Edinburgh Festival, the alt-comedy circuit, and made fans of stars like Meg White and John Waters. Proof positive that the the world-at large knows interesting when they hear and see it. And now, America's first family of indie rock have released a new music video for "(Theme From) The Complicated Life," directed by Tiff McGinnis. Like everything the Trachtenburgs do, it compounds the deadpan and quotidian with subtle (and not so subtle) irony and social commentary, all wrapped nice and cozy in a hand-sewn patchwork blanket of off-kilter beauty. It's a semi-psychedelic journey reminiscent of The Beatles kaleidoscopic "Yellow Submarine," led by animated versions of the Trachtenburgs (Daddy Jason, Mama Tina, and Daughter Rachel) as they navigate this complicated life as musical honeybees. Undoubtedly strange but real genius, and it's premiering at Paste Magazine for your odd pleasure:

Bear in mind, all this praise we're heaping on the Trachtenburgs for their refusal to conform is not to say that corporate hegemony is responsible for all bad music; or that if every one of us picked up guitars or pens or paintbrushes we'd produce creative gems. But that's what makes TTFSP so unique. They've struck upon an idea and developed it into a creative vision potent enough to resonate with the rest of us. In other words, here's this totally idiosynccratic family/three-piece making music that is both concept and art form. And it's good. Real good. Honestly, there's nothing like it.
Reviews
"They might just be the best band ever." – Pitchfork
"THE TRACHTENBURG FAMILY SLIDESHOW PLAYERS STAND UP FOR ORIGINALITY ON LOST AND FOUND" -altsounds
Tracklisting
CD Album (TUCH2029CD)
Open Everyday

Beautiful Dandelion

If We Go

All Over the World

The Indoctrinization Starts Young

Christian Terror

(It Must Be) Somebody's Birthday

Don't You Know What I Mean

(Theme From) The Complicated Life

Look At Me

Givin' Kisses

Cultural Moments In Fine Art

You're the One Whose Made For Me and I Was Made For You

Candy City

Lorimer

How Powerful The Sun
Download Album (TUCH2029DD)